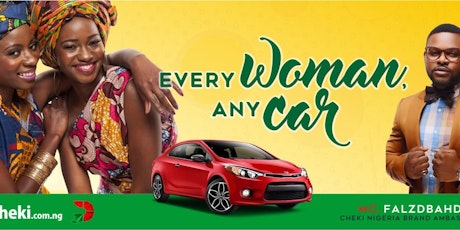 Dear Distinguished Woman,
We humbly bid you good tidings and believe this meets you well.
We are glad to announce and invite you to be a part of one of our events themed "EVERY WOMAN, ANY CAR". This event was created, because as a car company, we have noted how the auto industry is predominantly male targeted and how from youth, the girl child is already at a disadvantage because of the average parents'
preference to favor the male child in learning how to drive and furthermore be given a car or the perpetuated/emulated disposition of females general disinterest in cars.
The domino effect of this is us seeing the average woman convey her entire family via various risky modes of transportation, including the local motorbike (Okada), rusty jagged local buses (danfo), unlicensed drivers on local tricycles (keke marwa). We have seen pregnant women crossing dangerous highways to either go to the market or even to attend their antenatals. Some women have had miscarriages, others have delivered their babies on the way whilst others have died on these motorbikes or during labor unable to get transportation in time to a hospital.
We believe it shouldn't be a luxury neither should it be a privilege; one of the many things a woman should have, to make life a little easier, is access to easy and comfortable transportation. Every woman has a right to legally acquire any car of her choice or have access to more comfortable alternative transportation services and should be equipped in that regard.
We also want to arm women with how to start their own auto related businesses by portraying some of the successful car business and car related business women under the Cheki dealership. There is a chasm in the industry that we have identified and know women are in the best position to fill that gap and can take advantage of it by harnessing, starting a business and create or add to them as a stream of steady income. Various financial institutions will be present to offer their services which will enable you fully benefit from this event.
THERE'LL BE MUSIC, TALKS, FOOD AND PRESENT WILL BE OUR BRAND AMBASSADOR "FALZTHEBAHDGUY". ALSO, YOU CAN PURCHASE A CAR AT THE EVENT FOR AS LITTLE AS N500,000
Please feel free to send your inquiries to customerservice@cheki.com.ng. We look forward to receiving you on that day. It's not in commemoration of international women's day, neither is it to mark Mothers' or Girl child's Day though these are greatly noble causes. This is to honor the girls that we were, the lady we evolved into and the woman we become, to suit the roles life demands that we fill, EVERY SINGLE DAY.